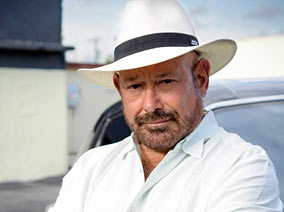 I normally don't go around telling everyone my trade secrets, this time is different. It's about the shirts and hats I wear.

I've been in Miami for the past 30+ years and out of the many things I like about this town it's the sense of fashion. I mean the easy going relax shorts and sandals type of fashion. Here in South Beach we take the weather serious and dress appropriately. Its not hard to see men in kakis and camp shirts or even shorts and camp shirts.

There is nothing wrong by projecting your personality in classic cars and wearing a great looking shirt and fedora hat! I do it all the time.

Many of my customers and friends are always asking me where I get my shirts and hats. They are talking about my Guayabera shirts. The shirt itself is very elegant and comfortable to wear but to pronounce it can be difficult I admit. Guayabera shirts are of Cuban origin. Like many others in Miami, I have been exposed to these shirts making them my own style.
Here are some of the shirts I like:


Whats the deal? I tell you upfront these shirts are comfy and easy to wear, you always look well dressed and it blends with Miami perfectly. Who doesnt own a Guayabera in Miami, Florida? As for the hats, once you are in Miami for a day or two in this summer weather you will realize it can really take a toll in your head. The hats help keep you cool while also looking cool!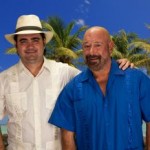 I get these shirts and hats from my friend Alexis Martin; he is the owner of MyCubanStore.com an online store specialized in this Miami fashion. He wont tell you this but at MyCubanStore.com they are the best!
They will go out of their way to satisfy their customers. It is no wonder why they have grown so much in the past few years. Mr. Martin is a hard working fellow that knows his tropical fashions and will treat you right!
If you happen to call MyCubanStore.com or buy anything from them tell them Ted Vernon sent you and maybe, just maybe, you will look as good as me.